Supporting The Net Zero Emission Target, Pupuk Indonesia Collaborates with Japan to Review The Contruction of a Green Ammonia Plant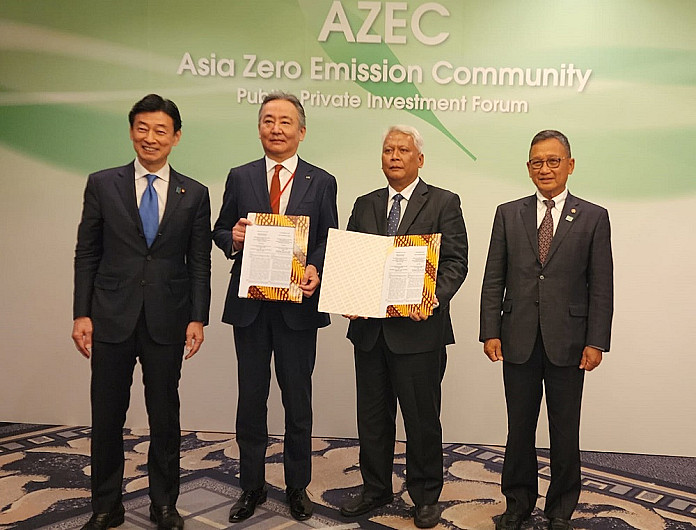 JAKARTA – PT Pupuk Indonesia (Persero) together with TOYO Engineering Corporation agreed to conduct a joint study on the construction of a Green Ammonia plant in Indonesia. The agreement is contained in a Memorandum of Understanding (MoU) concerning the Joint Development of Pupuk Iskandar Muda (PIM) 2 Hybrid Green Ammonia.

Deputy President Director of Pupuk Indonesia, Nugroho Christijanto said that the study conducted by Pupuk Indonesia with TOYO will utilize the existing Ammonia-Urea PIM-2 plant located in Lhokseumawe, Aceh, to become a hybrid green ammonia plant.
"Pupuk Indonesia and TOYO will compile a business plan study, prepare for project implementation, and will conduct a Front end Engineering Design (FEED) in the context of developing a hybrid green ammonia project at the PIM-2 plant," said Nugroho when showing the MoU document in Japan, Friday (3/3/2023).
Furthermore, Nugroho said that the joint development cooperation is also a follow-up to the cooperation between the two parties which was previously in the form of preparing a feasibility study (FS) for the green ammonia project in Indonesia. In its implementation, Pupuk Indonesia will also form a joint venture with TOYO for the development and construction of this plant.
In addition to TOYO, said Nugroho, Pupuk Indonesia also signed a memorandum of understanding with IHI Corporation regarding the preparation of a feasibility study on Stand Alone Green Ammonia and Ammonia Co-Firing. The plan is that this new green ammonia plant will be built in the Gresik Petrochemical industrial area, East Java (East Java).
Nugroho said that this study is part of Pupuk Indonesia's efforts to support the Net Zero Emission Indonesia 2060 program.
Ammonia is a chemical compound that can be a source of clean energy in the future as well as a medium for transporting hydrogen or hydrogen carriers. Therefore, Pupuk Indonesia as one of the largest ammonia producers in the world, can play its strategic role in supporting clean energy through the development of green ammonia in Indonesia.
Currently, Pupuk Indonesia also has an MoU related to the development of blue ammonia and green ammonia with a number of Japanese companies such as Mitsubishi Corporation, Toyo Engineering, Mitsui, INPEX, IHI, Itochu, and so on.