Banyuwangi Durian Farmers Interested in Joining Makmur Pupuk Indonesia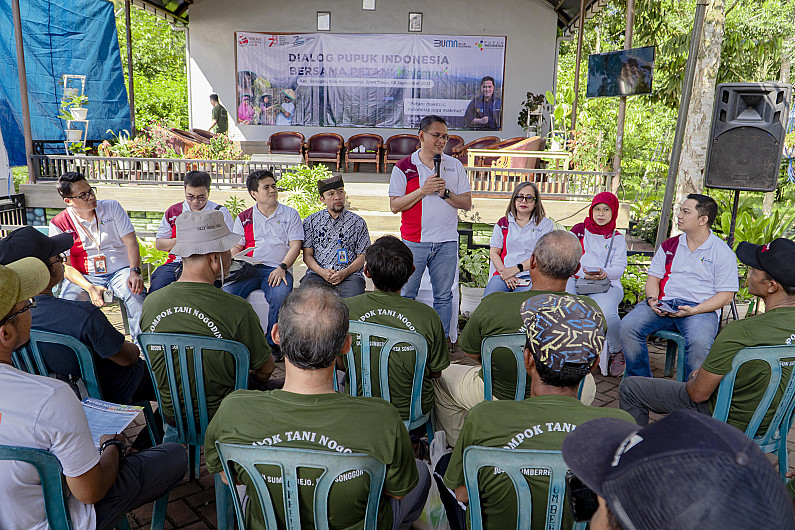 BANYUWANGI – Durian farmers in Songgon Village, Banyuwangi Regency who are members of the Nogo Dino farmer group are interested in joining the PT Pupuk Indonesia (Persero) Makmur program. This was conveyed by the farmers during a direct dialogue with the President Director of Pupuk Indonesia, Rahmad Pribadi, Friday (8/9/2023).
On this occasion, Rahmad said that the program launched by SOE Minister Erick Thohir in 2021 could connect farmers with a complete agricultural ecosystem with the aim of increasing agricultural productivity and income.

"Through this Makmur program, Pupuk Indonesia provides certainty about fertilizers, especially non-subsidized ones, makes it easy for farmers to access financing, insurance guarantees, and agricultural assistance from agronomists, and most importantly, easy access to markets," said Rahmad.

The agricultural ecosystem that can be utilized by farmers in the Makmur program starts from project leaders, financial institutions such as banking, agricultural technology, insurance, agro input, regional government (Pemda), and offtakers.

The Makmur Pupuk Indonesia program was also welcomed by durian farmers, one of whom is Feri, who is a durian farmer in Songgon Village, Banyuwangi Regency, East Java. According to him, this program, which means Let Us Advance People's Business, can be used by young farmers to increase agricultural productivity and income. "I am interested in the Makmur program because there are many benefits that we can experience. "Through the Makmur program, we also get many benefits, one of which is certainty of fertilizer so that farmers can be prosperous and prosperous," said Feri.

On the same occasion, Head of the Nogo Dino Farmers Group, Winarno, stated that the Makmur program was a solution for farmers to get fertilizer. The reason is that durian is no longer a commodity that receives fertilizer subsidy allocation. Based on Minister of Agriculture Regulation (Permentan) Number 10 of 2022, the Government only determines nine commodities that are entitled to receive fertilizer subsidies, namely rice, corn, soybeans, chilies, shallots, garlic, coffee, cocoa and sugar cane.

Apart from that, Winarno also admitted that the productivity of his durian plants had increased in quality after using NPK type fertilizer, namely Phonska Plus, which is a product of PT Petrokimia Gresik, which is a subsidiary of Pupuk Indonesia. He said that durian trees will actually still bear fruit even if they are not given fertilizer. "The tree will definitely bear fruit but it will not be optimal because it is not fed with fertilizer. Before using fertilizer, the quality of the fruit at harvest is either sweet or bitter. "Through the Makmur program, I want assistance to maximize productivity and quality," said Winarno.

In response to this, Rahmad invited durian farmers in Songgon Village to join the Makmur program. Pupuk Indonesia will carry out a demonstration plot for the durian commodity to prove that there has been an increase in fruit quality, productivity and agricultural income.

"If the Makmur program is useful for you, then I invite you to join, there is no cost to join, moreover this program uses non-subsidized fertilizer so you no longer depend on subsidized fertilizer, because the Makmur program aims to make Indonesia prosperous, so you can prosper with Indonesia ," concluded Rahmad.

It is known that the Makmur program itself has been implemented on an area of 6,341 hectares (ha) in several areas in Banyuwangi Regency with project leaders PT Petrokimia Gresik and PT Pupuk Kalimantan Timur. For example, the Banyuwangi Sumber Hidup project with rice commodities has succeeded in increasing productivity to 7.3 tons per hectare from the previous 5.4 tons per hectare.