Pupuk Indonesia Supports Clean Energy Studies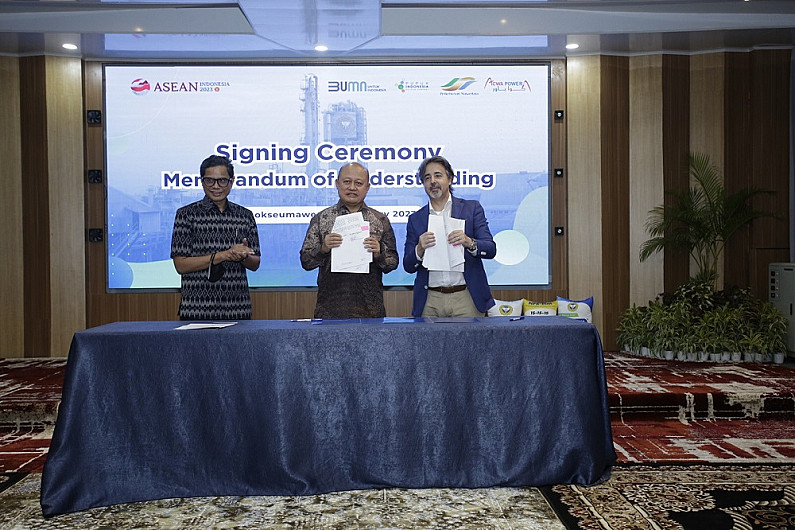 JAKARTA – PT Pupuk Indonesia will examine the potential for clean energy development with ACWA Power Company, an energy company from Saudi Arabia that is developing green hydrogen in various countries. In addition, this collaboration also involves PT Perkebunan Nusantara (PTPN) III, related to the development of biomass, which is a biological material that can also be used as an energy source. 
This clean energy development study is in line with the energy security program that is the Government's focus in the Golden Indonesia Vision 2024. In this case, the government targets to reduce greenhouse gas emissions based on the National Determined Contribution (NDC) to 30.9 percent for the IPPU and energy sectors by 2030.
This collaboration is contained in a Memorandum of Understanding (MoU) signed by the President Director of Pupuk Indonesia Bakir Pasaman with the President Director of PTPN III Abdul Ghani, Global Head of Hydrogen and Executive Vice President (EVP) of ACWA Power Company, Andrea Lovato, and witnessed directly by Deputy Minister of SOEs I Pahala N. Mansury.
"We know that ACWA Power Company has successfully developed a green hydrogen project in Saudi Arabia, and in the future will continue to develop it to various parts of the world. I think this is a very good development," explained Bakir, at the MoU signing event in Lhokseumawe, Aceh, some time ago.
Green hydrogen itself is hydrogen obtained from a net source without carbon emissions. Where ACWA Power Company is developing the NEOM green hydrogen project in Saudi Arabia with a green energy requirement of 40 GW and is one of the largest green hydrogen projects in the World. In addition, ACWA has also developed the Noor Energy Project in UAE-Abu Dhabi which is the largest concentrated solar power in the World, as well as the Shuaa Solar Power Energy Project.
Therefore, Pupuk Indonesia as one of the largest ammonia producers in the world, can play its strategic role in supporting clean energy through the development of green hydrogen in Indonesia.  Especially the development of blue ammonia and green ammonia, where Pupuk Indonesia currently has an MoU with a number of Japanese companies such as Mitsubishi Corporation, Toyo Engineering, Mitsui, INPEX, IHI, Itochu, and so on. Meanwhile, ammonia is a chemical compound that can be a source of clean energy in the future as well as a medium for transporting hydrogen or hydrogen carriers. 
"Our main market is Japan, as Japan is currently the only country with a high commitment to buy 3 million tons of ammonia by 2030. No country in the world has a commitment as strong as Japan," bakir explained.  
Bakir further said that the development of clean energy projects with PTPN III and ACWA Power Company was carried out by each party with different project developments. This is a new thing, because ACWA Power Company also wants something different, not just like the development of green hydrogen in Indonesia.
As for the scope of the MoU with ACWA Power Company, Pupuk Indonesia will review green hydrogen projects including downstream production of green chemicals such as methane, methanol, and ammonia, as well as the scope of power plants. Meanwhile, with PTPN III, the scope of cooperation is the development of biomass supply chains which includes the development of biomethane, biomethanol, and other carbon-based new renewable energy as well as the provision of carbon for the Green Cluster Industry (GIC) in Lhokseumawe, Aceh.
Bakir said that this study collaboration was thanks to the support of the government, especially the Ministry of SOEs. Especially the Deputy Minister of SOEs I Pahala N Mansury who has brought together Pupuk Indonesia with ACWA Power Company.
"With the support of Pak Pahala and KBUMN, this can all happen. Insyallah with our prayers together, I hope that hopefully with the extraordinary support of the father, I think this ideal will be achieved," bakir explained.