Pupuk Indonesia Supports the 2023 Youth and Junior Weightlifting National Championships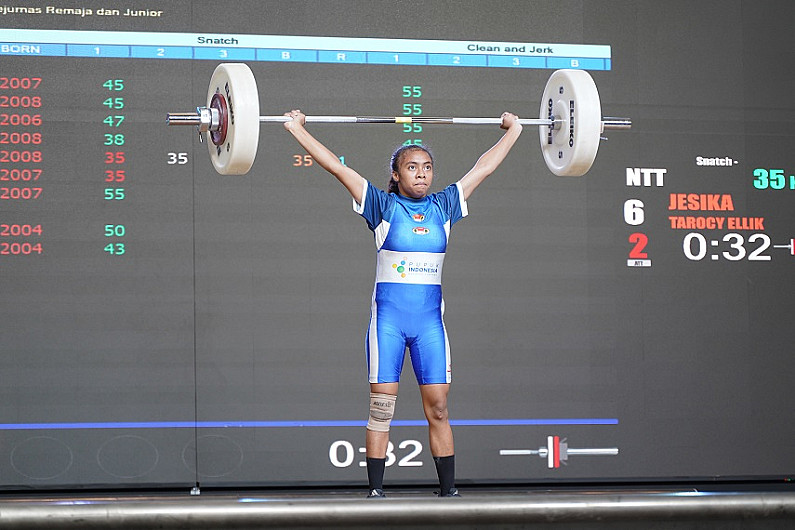 SURABAYA (6/6) – In order to produce talented and accomplished lifters at the international level, PT Pupuk Indonesia (Persero) once again supported the 2023 Series I Youth and Junior Pupuk Indonesia Weightlifting National Championships (Kejurnas) which was held by the Executive Board of the Indonesia WeightLifting Association (PB PABSI).
The 2023 Series I Pupuk Indonesia Weightlifting National Championship was held at the Novotel Samator Hotel, Surabaya for three days from 6 to 9 June 2023. Pupuk Indonesia, represented by the President Director of PT Petrokimia Gresik, Dwi Satriyo Annurogo said that the Pupuk Indonesia Group welcomed Pupuk Indonesia Series I 2023 Youth and Junior Weightlifting National Championship activities.

"On this occasion we support the holding of the Youth and Junior Weightlifting Championships in 2023. We hope that this activity will give birth to athletes who can make the nation proud not only at the Sea Games level, but also at the ASEAN Games and up to the Olympics. The support for this activity is also a form of Pupuk Indonesia's contribution to the country," said Dwi Satriyo Annurogo at the opening of the 2023 National Youth and Junior Weightlifting Championships in Surabaya, East Java, Tuesday (6/6/2023).

Dwi revealed that Pupuk Indonesia Group's support was carried out by Pupuk Indonesia together with three of its subsidiaries, namely PT Pupuk Sriwidjaja Palembang, PT Pupuk Kalimantan Timur, and PT Petrokimia Gresik. Pupuk Indonesia Group hopes that this support will provide maximum results and improve the achievements of Indonesian weight lifters. The National Weightlifting Championship supported by the Pupuk Indonesia Group in 2022 has succeeded in producing talented and accomplished lifters at the SEA GAMES Cambodia 2023 event, namely Luluk Tri Wijayana in the 49 kg class won bronze and Muhammad Husni in the 55 kg class won bronze.

PB PABSI Secretary General (Secretary General), Djoko Pramono said that Luluk Tri Wijayana and Muhammad Husni were the best male and female lifters at the Youth Weightlifting National Championship and Junior Pupuk Indonesia in Yogyakarta in 2022.

"We would like to thank the Pupuk Indonesia Group who sincerely always help and fully support the National Championship at the Youth and Junior levels in order to produce potential athletes who are expected to make the Indonesian nation proud at international Olympic events that will be held in the future. come," said Djoko.

Therefore, Djoko revealed that the mission of this year's Pupuk Indonesia National Weightlifting Championships Series I was to provide a platform for competition for Youth and Junior athletes so that the cadre of athletes in PABSI would not be interrupted. According to him, the 2023 National Championship will receive extraordinary interest from each province in order to create potential young athletes.

"National Youth and Junior Championships are part of a long-term coaching program, of course, requiring a special approach to capture young talents through the use of sports science and technology in a structured, measurable and regular manner under the coordination of the Binpres, Research and Development and Puslahta divisions," he added.

On the same occasion, Chairman of the Organizing Committee for the Series I Pupuk Indonesia Weightlifting National Championship, Sonny Kasiran said that all participants competing in this year's national championship were the best lifters in Indonesia. The reason is, to appear in this event it must be stated that it has passed the Minimum First Total Force (MATP) requirements of each class that is contested.

"Through the assistance of PT Pupuk Indonesia, PB PABSI is ready to hold the 2023 National Youth and Junior Weightlifting Championships in Surabaya. This championship has received enthusiasm from the regions even though preparations for the senior championship were only about a month apart. However, regional representatives are still preparing their senior athletes to appear and show consistent coaching. We hope that this National Championship can run smoothly to completion and give birth to potential athletes," he said.

Pupuk Indonesia Youth and Junior Weightlifting National Championship Series I 2023 contested 10 classes with 5 classes each for the male and female category and attended by around 183 lifters and 77 coaches from 21 provinces. Meanwhile, in the Junior category, the classes competed were the same as those in the Youth category. The details in the Young Men category consist of 55 kg, 61 kg, 67 kg, 73 kg and +73 kg while in the women's section it consists of 45 kg, 49 kg, 55 kg, 59 kg and + 59 kg.