Red and White Catalyst Factory, Pupuk Indonesia Supports Downstreaming and Reduces Imports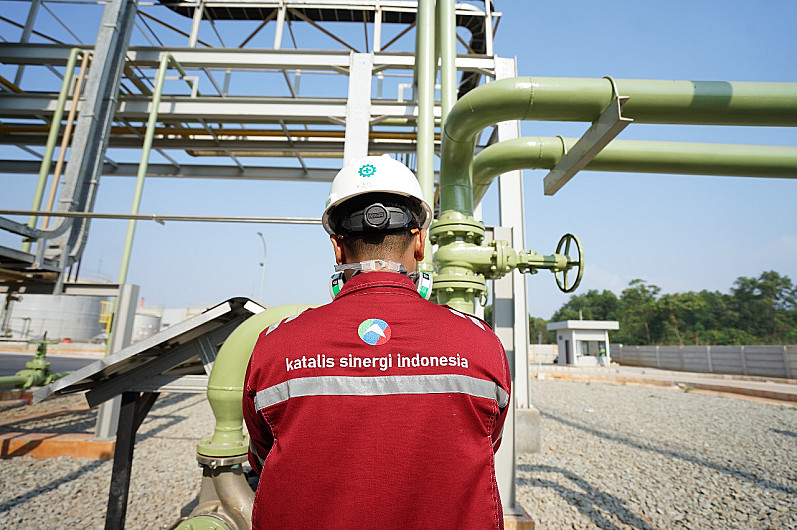 JAKARTA – The Red and White Catalyst Factory, which is located in the Kujang Cikampek Industrial Area, West Java, is one of the projects inaugurated by the President of the Republic of Indonesia, Joko Widodo (Jokowi). This factory's first production was carried out to coincide with the National Strategic Project Sewindu (PSN) event in Jakarta, Wednesday (13/9/2023).
Jokowi appreciated the Committee for the Acceleration of Priority Infrastructure Provision (KPPIP) and all related stakeholders who have successfully completed many national strategic projects over the last eight years.

"This National Strategic Project (NSP) aims to provide benefits to society. "In the last eight years, 161 NSPs have been completed and 11 million people have been employed, and most importantly this has boosted our competitiveness, our competitiveness has increased," said Jokowi.

This first catalyst factory is one of Pupuk Indonesia's commitments in the product downstream program as well as supporting the progress of the national chemical industry in reducing dependence on imported catalysts.

The President Director of Pupuk Indonesia, Rahmad Pribadi said that this downstream program is in line with the direction of the President of the Republic of Indonesia, to provide added value to the national economy. "Pupuk Indonesia will continue to innovate in developing its chemical business, because there are still many chemical raw materials that still have to be imported, including this catalyst product. Even though Pupuk Indonesia has the capacity to produce them," said Rahmad.

The Red and White Catalyst Factory was built based on the synergy of state-owned companies, universities and the government. This factory is operated by PT Katalis Sinergi Indonesia (KSI), which is a joint venture company between PT Pertamina Lubricants (38%), PT Pupuk Kujang (37%), and PT Rekaminta Innovation Bandung Institute of Technology or ITB (25%). The Red and White Catalyst Factory stands on 2 hectares of land in the Kujang Cikampek Industrial Area.

"For the initial stage, this catalyst will be used for the energy sector, the offtaker is Pertamina. "However, in the next stage we will enter the petrochemical sector which is part of the fertilizer industry," said Rahmad.

Rahmad explained that Pupuk Indonesia, through its subsidiary PT Pupuk Kujang, acts as an investor, especially in land provision activities and so on. This catalyst factory will be an environmentally friendly industry, supporting the development of green fuel, as well as the development of new and renewable energy.

He also emphasized that this project is in line with the spirit of energy transition adopted by countries around the world. This catalyst project itself is part of the company's decarbonization roadmap for the development of green energy.

The Red and White Catalyst Factory is designed to have a production capacity of 800 tons per year. The construction process has been going on for 13 months with a total investment required of around IDR 286 billion.

Catalysts themselves function to speed up chemical reactions in various shapes and sizes. For example, the use of catalysts can speed up chemical reactions without requiring high temperatures. Thus, catalysts can save energy and reduce production costs.

"Apart from that, catalysts can also be used to speed up chemical reactions in the production of Ammonia and Sulfuric Acid, both of which are raw materials for fertilizer production," concluded Rahmad.