Strengthening Collaboration, Pupuk Indonesia Holds Makmur Jamboree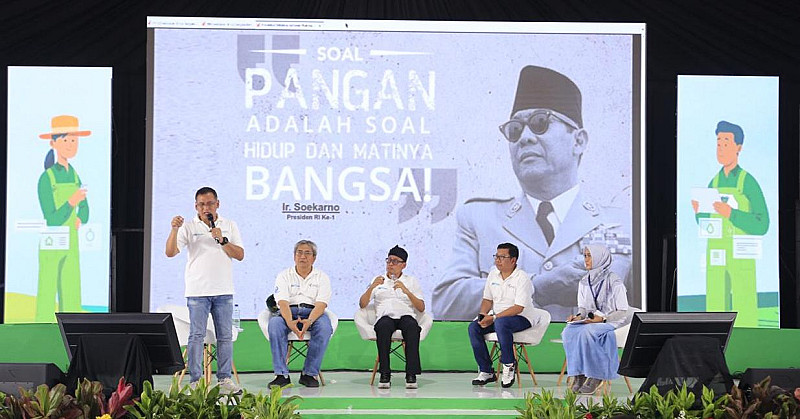 CIKAMPEK – In order to strengthen the Makmur Program, PT Pupuk Indonesia (Persero) held a Makmur Jamboree in the Pupuk Kujang area, Cikampek (11/10). In this jamboree, Pupuk Indonesia invited thousands of farmers and stakeholders to share knowledge and experiences in agricultural cultivation.
Rahmad Pribadi, the President Director of PT Pupuk Indonesia (Persero), stated that agriculture faces many challenges, including reduced agricultural land, diminished soil quality, decreased productivity, and increased demand. "These are all issues that cannot be solved by a single organization; it must be addressed collaboratively. Pupuk Indonesia, being a company focused on agro-inputs, will continue to support the government's efforts to achieve food security through innovation and agricultural cultivation, especially fertilizer production," Rahmad explained.

Through the Makmur Jamboree, Pupuk Indonesia brought together stakeholders involved in the success of the Makmur Program, including banking institutions, technical advisors, providers of agricultural production facilities, off-takers, and agricultural insurance providers. "This activity is a manifestation of the attention given by the Minister of State-Owned Enterprises, who always emphasizes that for Indonesia to prosper, farmers must prosper. It was assigned to us, and fortunately, there is already a program, called the Makmur program," he added.

During this event, Pupuk Indonesia also launched "Taruna Makmur" (Makmur Youth). Taruna Makmur consists of students who will provide field assistance in the Makmur program. They come from the Agricultural Development Polytechnics (Polbangtan) in five regions across Indonesia: Polbangtan Bogor, Yogyakarta, Malang, Medan, and Gowa.

These Taruna Makmur will provide cultivation assistance and agronomic services to farmers participating in the Makmur Program. The number of appointed Taruna is 76, and this number will be increased to at least 500 youths distributed in various regions of Indonesia.

The Makmur Program was initiated and launched in 2021 by the Minister of State-Owned Enterprises, Erick Thohir. It is an agricultural ecosystem that connects and facilitates farmers' access to agricultural technology, financing, insurance, easy access to fertilizers, and agricultural facilities, ultimately leading to increased productivity and farmer welfare.

The Makmur Program was initially initiated by PT Pupuk Kalimantan Timur, a subsidiary of Pupuk Indonesia. After its successful implementation, this program was adopted by Pupuk Indonesia and became a program of the Pupuk Indonesia Group. The implementation of this beneficial program was considered successful and was subsequently adopted by the Ministry of State-Owned Enterprises two years ago. "Therefore, everywhere Pupuk Indonesia advocates prosperity because our task is to nurture fertility and spread prosperity. Through Prosperity, it has been proven that even when farmers use non-subsidized fertilizers, their income and profits increase, contributing to the improvement of their income," Rahmad said.

As of October 2023, the performance of the Makmur program has been realized on an area of ​​306,775 hectares with 90,632 participating farmers. Among all the participants in the Makmur program, there is a recorded increase in the productivity of several crops, such as rice, by 14 percent, reaching 6.5 tons per hectare compared to the previous 5.7 tons per hectare.

Furthermore, Rahmad revealed that the Makmur Jamboree is Pupuk Indonesia's effort in the national farmer regeneration program. Through the Makmur Jamboree, Pupuk Indonesia aims to change the perception of the agricultural sector into an attractive and promising sector.

"We express our gratitude to all stakeholders who have contributed to the success of the Makmur program, including the Ministry of State-Owned Enterprises, the Ministry of Agriculture, local governments, bank directors, insurance companies, off-takers, providers of agricultural facilities, agricultural advisors, agronomists, and others who have contributed to the success of Makmur Program," Rahmad concluded.