Pupuk Indonesia is Ready to Support Food Security through the Availability of National Fertilizer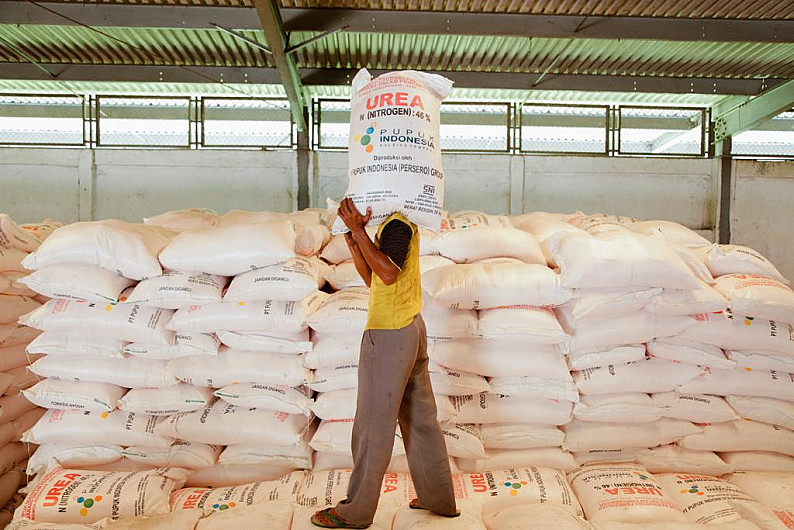 Jakarta, 16 November 2022 – SOE Minister Erick Thohir said the SOE Ministry through the Pupuk Indonesia Holding Company (PIHC) is ready to support food security through the provision of fertilizers in Indonesia to maintain national food price stability. This is in line with President Joko Widodo's statement when opening the G20 Summit at the Apurva Kempinski Hotel, Bali, Tuesday (15/11).
Previously, at the opening of the G20 Summit, the President conveyed the problem of fertilizer scarcity which should not be underestimated because it could have an impact on the welfare of the world community, especially food security. The reason is, the scarcity of fertilizers can cause crop failure in the agricultural sector which can impact on world food availability.
"We realize that fertilizer plays a strategic role in food security. In line with what President Joko Widodo said to strengthen the fertilizer industry, the Ministry of BUMN has established a roadmap, collaboration and sustainable strategic alliances from several BUMNs with an interest in providing quality fertilizers that increase agricultural productivity and food needs," said Erick Thohir.
PT Pupuk Indonesia (Persero) as a state-owned fertilizer holding company has 5 fertilizer producing companies spread across Kalimantan, Java and Sumatra, namely PT Pupuk Iskandar Muda, PT Pupuk Sriwidjaja Palembang, PT Pupuk Kalimantan Timur, PT Pupuk Kujang, and PT Petrokimia Gresik. The five companies can produce a total of 14,012,500 tons of fertilizer per year consisting of NPK, SP-36, UREA, ZA, and ZK, and produce non-fertilizer products such as Ammonia, Phosphoric Acid, Sulfuric Acid, totaling 8,694,000 tons per year. year.
Based on the latest data as of November 15 2022, PT Pupuk Indonesia (Persero)'s subsidized fertilizer stock for the Urea and NPK types is currently recorded at 720,552 tons, with details of 437,770 tons of Urea fertilizer and 282,782 tons of NPK fertilizer. This subsidized fertilizer is ready to be distributed to farmers registered in farmer groups and electronic Group Needs Definitive Plans (e-RDKK).
To ensure distribution, Pupuk Indonesia is supported by complete distribution facilities. This facility consists of 3 fertilizer packaging units (UPP) in Semarang, Cilacap, and Banyuwangi, 9 Distribution Center (DC) units in Makassar (3 units), Medan (2 units), Dumai, Surabaya, Celukan Bawang, and Lembar. Then 590 warehouses with a capacity of 2.5 million tonnes, and a network of more than 1,100 distributors and 28,000 authorized kiosks.
In addition to providing subsidized fertilizers, Pupuk Indonesia also continues to increase the availability of fertilizers by expanding non-subsidized fertilizer kiosks. Currently, the Pupuk Indonesia network's non-subsidized fertilizer kiosks are operating in a number of provinces, such as Bali, East Java, Central Java, West Java, Lampung, South Sumatra, Riau, North Sumatra, to Aceh.

"Certainly we secure the availability of subsidized fertilizer in accordance with the constitutional mandate. However, the non-subsidized fertilizer program also aims to advance business and the welfare of farmers. If productivity increases and agricultural output is absorbed to the maximum, the welfare of farmers can increase and national food stocks are also maintained," he continued. Minister of BUMN.
President Director of PT Pupuk Indonesia (Persero) Bakir Pasaman said, PIHC has actually secured the supply of fertilizer raw materials until the end of 2023. Efforts to secure raw materials are carried out in several ways, such as cooperating with partner countries producing fertilizer raw materials, especially phosphate and potassium. at a competitive price.
To strengthen these efforts, PIHC has also opened a representative office in Dubai as a liaison with raw material supplier countries. PIHC is also building new factories as an effort to increase fertilizer production capacity to meet both subsidized and non-subsidized national needs, as well as the international market, including plans to build a Pusri 3B urea plant in Palembang and complete the NPK factory in Lhokseumawe and review the construction of a fertilizer factory in West Papua.
"As a fertilizer producer, Pupuk Indonesia is committed to meeting farmers' fertilizer needs by trying to keep the price of commercial or non-subsidized fertilizers affordable, by trying to set prices below international market prices. Pupuk Indonesia is also ready to meet farmers' fertilizer needs in accordance with government assignments and distribute it to eligible farmers," said Bakir.